Many TSP account holders also invest through brokerage accounts and IRAs. Because of this, we've decided to cover some investing ideas outside of the TSP.
In this blog, we'll go over one of our favorite real estate investments. Before getting started, a standard disclaimer applies: we don't give personalized advice. Investments discussed in this blog may not be suitable for you. Please perform your own due diligence.
Real Estate Through Your Stock Broker
When most people think of real estate, rental properties come to mind. Rental houses can be profitable, but also have plenty of headaches: non-paying tenants, maintenance,  phone calls at 3 AM about broken toilets, etc.
We're going to talk about something very different–a real estate investment trust (REIT) in the commercial real estate space. Realty Income (ticker symbol "O") is our favorite REIT. You can invest in it through any stock broker.
Realty Income is well diversified, owning property in 47 industries across 49 states. Some of its biggest tenants are Walgreens, FedEx and Dollar General.
Realty Income is very popular among dividend investors. In fact, it's known as the "Monthly Dividend Company." It's paid 560 consecutive monthly dividends since it began in 1969. And it's increased its quarterly dividend for 78 straight quarters.
More than dividends
Dividends are only part of the story, however. Some stocks pay large dividends while their prices fall. The ideal dividend stock has strong, growing dividends along with capital appreciation (i.e., rising stock prices).
This has certainly been the case with Realty Income. The chart compares it to several major indexes, including the REIT index: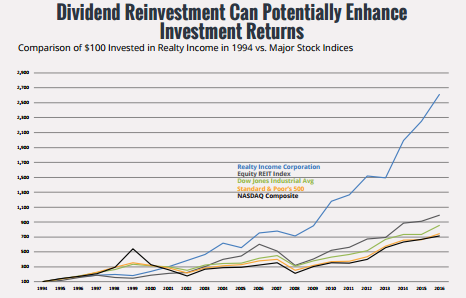 Source
Of course, there's no guarantee that Realty Income will perform this well in the future. And rising interest rates could harm it along with other real estate investments. However, it's performed well historically in various interest rate environments.
Crashes, Yields and Entry Points
Realty Income survived the financial crisis that devastated much of the real estate market. It fell just over 40% from late 2007 to its 2009 bottom. It recovered quickly and reached a new all-time high in early 2010. By contrast, the S&P 500 didn't reach a new high until 2013.
Realty Income fell after the 2016 election on fears of interest rate increases. As of March 17, its price is 59.86, down about 15% from its all-time high. Its current dividend yield is 4.29%.
While 4.29% is an attractive yield, we believe it's ideal to buy Realty Income when its yield is closer to 5%. This will require a more significant price drop like there was in August 2015. If this happens, we plan to write a follow-up blog.
Finding the yield and more information
You can find the yield of Realty Income by typing the ticker symbol "O" in Yahoo Finance.  You'll see a "Summary" section like this: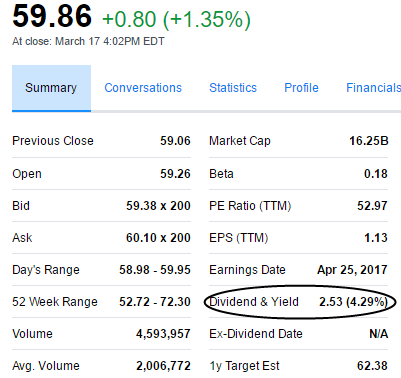 Below are a few more links about Realty Income.
How Risky is Realty Income Corporation? (Motley Fool)
Let Realty Income Corp (O) Pay Your Bills in 2017 (InvestorPlace)
Best of the Best Monthly Dividend Stocks (Sure Dividend)
A final note: we don't recommend investing more than 5% of your portfolio in any stock or fund, unless it's a broad index fund like the S&P 500. Allocating too much into any sector (real estate, biotech, commodities, etc.) is risky.
Join us!
If you'd like to learn more about our service, sign up here. You'll also receive our free TSP resource guide and two TSP strategies.
Disclosure: As of the time of the blog (3/18/2017), we own shares of Realty Income (O). Besides being shareholders we have no affiliation with the company.