The stock marked moved up in January. Our service's return was 2.03% for the month. All of the TSP funds had gains, ranging from 0.23% (F Fund) to 2.89% (I Fund).
Things to watch this year
Market analysts are focusing on several questions:
Will the Dow move (and stay) above 20,000?
How much will the Fed raise interest rates this year?
Will corporate earnings improve?
Can the post-election rally continue? And how will markets react to the new administration?
We'll take a brief look at each of these.
Dow 20,000
The Dow struggled for most of January.  Then, in a late-month rally, it opened above 20,000.  The rally quickly faded, though, and it finished January at 19,864. So the jury is still out on Dow 20K.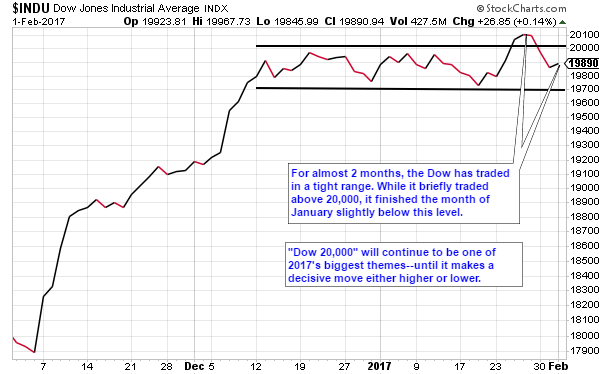 Interest rates and earnings
The Fed anticipates three interest rate hikes in 2017. The first rate hike will probabaly happen in June. The current odds of a June hike are 72% according to the futures market.
The Fed's plans could change, though. They may delay a rate hike for a variety of reasons: a financial crisis, sluggish economic growth, a stock market correction, etc.
Corporate earnings have slowed down since mid-2015. Companies have started releasing 2016 fourth-quarter results, so investors are watching closely. So far, earnings have been stronger than expected.
Can the post-election rally continue?
We don't have much to say about this. Our approach is based on the stock market's trend and seasonal patterns. We don't try to predict news or world events.
Right now, the stock market is trending up. If this changes, it will certainly affect our recommendations.
Join us!
If you'd like to learn more about our service, sign up here. You'll also receive our free TSP resource guide and two TSP strategies.
If you're ready for our premium TSP recommendations, join our service here.