The stock marked moved up again in February. Our return through the end of February was 5.30%. This is significantly higher than any other service tracked by TSPCenter.com: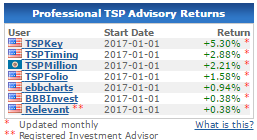 Things to watch this year
We're revisiting the major themes covered in our last blog, namely:
Will the Dow move (and stay) above 20,000?
How much will the Fed raise interest rates this year?
Will corporate earnings improve?
Dow 20,000
From mid-December through January, the Dow struggled to move past 20,000. In February, it blew right past it. "Dow 20,000" is no longer an important question–unless the Dow has a significant drop.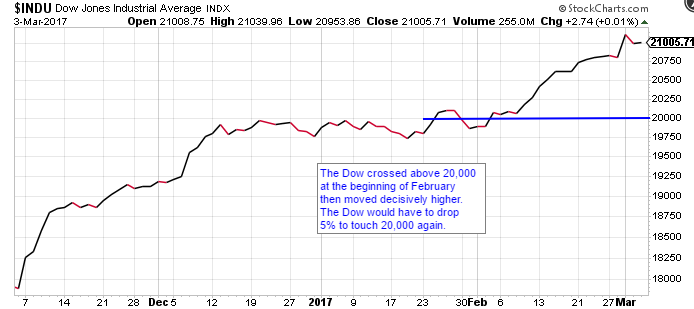 Interest rates
At the end of January, analysts thought the next interest rate hike would happen in June. Due to strong economic data, it's now expected to occur this month.  As of Friday, March 3, the odds of March rate hike were 80% according to the federal funds futures market.
Corporate earnigns
First quarter corporate earnings were better than expected. 65% of S&P 500 companies beat their mean earnings estimates. Earnings have been stagnant since 2015, so this is a welcome change.
Join us!
If you'd like to learn more about our service, sign up here. You'll also receive our free TSP resource guide and two TSP strategies.
If you're ready for our premium TSP recommendations, join our service here.